In loving memory of her late husband, Albert (who died in 2018), his widow Joan was keen to do something really lasting and useful in his memory. Having heard Gillie talk about our work, she wanted to give us the funds to enable the building of a much-needed atelier for the young seamstresses of St Joseph's Training Centre in Fada N'Gourma. Thank you Joan! Albert will always be remembered with great warmth and gratitude by many.
Adrian & Christine Corless
When celebrating their joint 60th birthday, Adrian and Christine encouraged their friends and family not to give them gifts, but to make a donation to a charity. When asked to recommend a charity, they very kindly thought of us. Thank you, Adrian and Christine, for thinking of us at such a special time for you both
Thank you very much to the Golding family for helping us with some of our projects recently mentioned in our Autumn 2018 newsletter. Here's what Mrs Golding says, "We talked as a family about the fact that we had some money we wanted to use to do good for others and chose the Les Amis projects because of the school connection; the boys wanted to help younger children as they felt like it was hardest on little ones to not have access to water and other basic needs. We also chose the projects that, combined, might have the biggest impact on a community." Thank you to the Golding family!
Thank you to all the seamstresses of Lichfield Soroptimists for your donations which have helped us to fund the training of seamstresses in Fada. Your help has also ensured that the roof to their dorm has been repaired and they will no longer be rained on. Thank you so much!
... who has twice baked and sold a truly amazing range of delicious Brazilian food, thereby raising money for us. Thank you, Patricia! ... and her little helper.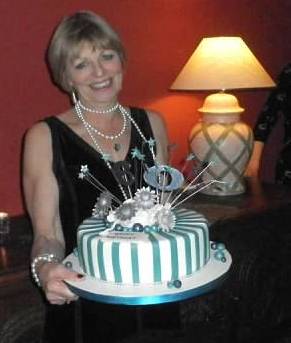 … for asking that everyone helping her to celebrate her 60th birthday should do so by donating to us. A handsome sum was raised! Thank you, Gill, and thank you to your friends.
Issie, Rosie, Edward and friends
... for spending hours and hours making bracelets and then selling them at school. Thank you so much for your thoughtfulness and efforts. And not forgetting, of course, to thank all those children who bought one.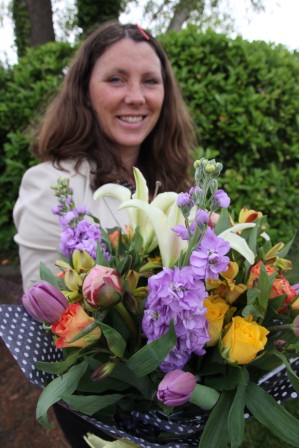 ... for creating and raffling this beautiful bouquet of flowers which raised enough to help us put a primary school child through school for a year. Thank you!
... for making this delicious cake which we raffled. The amount raised was enough to put three children through primary school for a year. It is wonderful what a cake can do!
Thank you to the family of the late and much-missed David Dixon, a long-time supporter of this charity, for asking for donations to Les Amis instead of flowers when he was laid to rest. He were also very grateful that he remembered us in his will.
Thank you to the Year 3 children of St Edmund's Catholic Primary in Godalming who undertook some really great sponsored challenges in support of Les Amis. They had to choose between a spelling challenge (how many tricky words could they spell correctly from a list of 20?), or a times tables challenge (how many correct answers could they get in 10 minutes using tables up to the 12 times table?) and, finally, a fitness challenge (how many laps of the school playground could they run in 10 minutes?). Who would have guessed that such a simple and straight-forward idea, and so practical too, would raise £926? Thank you, Year Three!
… who was inspired by Fr Paul's visit to St Edmund's Catholic Primary to do some fundraising for us. He organised a cake sale which raised just under £100! Thank you, James, and everyone who bought a delicious cake.
… for putting on a fabulous 'Pop-Up Supper' which was attended by over 40 of her friends and neighbours and which raised a super £1,186 for Les Amis
… for holding a book and cake sake which raised a brilliant £307. This will buy a cow or put a child through primary school for six years. WOW!
Thank you to everyone of Butler House at Worth School for their wonderful fundraising efforts which resulted in a cheque in the sum of £1,031 being presented to Gillie.
Determined to raise some much-needed funds for a home for girls in the parish of Boulsa, Jude invited her friends to help her to celebrate her birthday and raise some money in the process. The event, which included an auction, raised a wonderful £3,330. Thank you, Jude!
St Mary's Parish, Chiddingfold
Thank you to the children of St Mary's Parish in Chiddingfold for putting together a box of extremely useful things for Gillie to take to Burkina Faso the next time she travels there. The box included things such as travel-sized toiletries, a hairbrush, tissues, plasters and, very importantly, sweeties! Thank you all so much.
Thank you to Rosie, Sophie, Millie, Nina, Lauren, Hannah and Beth (of St Edmund's Catholic Primary School in Godalming) who undertook a sponsored cycle ride to raise money for Les Amis. Between them they managed to cycle 60 miles and in the process raise £500.
There are so many people we need to thank that it is hard to know where to start. At the very least we would like to thank all of you who contribute to the steady stream of donations, both big and small; those of you who have set up regular monthly payments into our account and those who hold fundraising events for us. At the end of the day it is YOU who are achieving so much on our behalf. It goes without saying that we thank the many people in Burkina Faso who work so tirelessly and voluntarily for us - without them and all that they do for us we quite simply would not be able to achieve anything.